The mumps have swept from Universities across the nation all the way to the National Hockey League. The Vancouver Canucks are the first to report a case of the mumps on their team in 2017. Although there has only been one confirmed case of infected players on the team, the Canucks disclosed that several players have shown symptoms. The term "several" was later translated into five players showing mumps symptoms. As a precautionary measure, the Canucks did not allow these players to participate in the game against the San Jose Sharks last saturday. In addition, vaccinations are being administered to players as an added precaution. The Canucks understand that this is a highly contagious disease, therefore, they are following all of the protocols given by the Center for Disease and Control Prevention (CDC).
View the full Canucks press release
Unfortunately, more than one team has been effected. On Monday February 27th, the Minnesota Wild confirmed two cases of the mumps within the team, Jason Pominville and Zach Parise. Surprisingly, this isn't the first time the mumps has effected the Wild in recent years. Wild defenseman, Ryan Suter, was diagnosed with the mumps in 2014. Both Pominville and Parise received the booster in 2014 when Suter was diagnosed, yet they are still infected. This brings up a new conversation that a different strain of the mumps, other than the standard vaccination, is causing these recent outbreaks.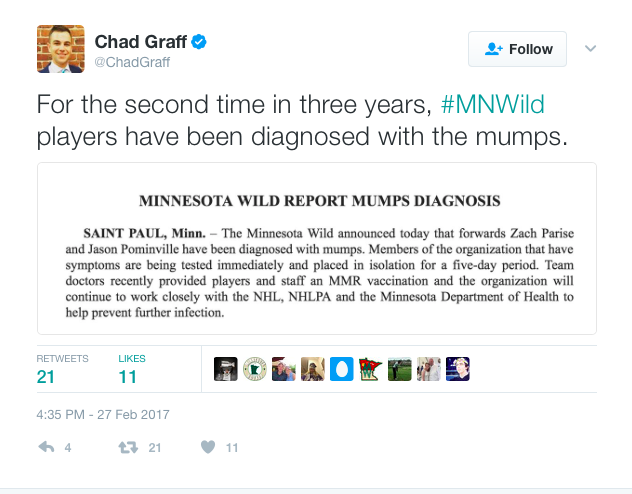 So what does this mean? The mumps virus is a highly contagious infection that is still in the air, or rather, on the ice. Everyone need to take steps towards prevention by either vaccination or isolation if mumps symptoms appear.